View all vendors
Simplify and streamline the technology in boardrooms, conference rooms, medical facilities, educational campuses, and command & control centers. Integrated solutions from Crestron simplify installation and practical usage, as well as maintenance and scalability.
Crestron has evolved far beyond the touch screen and control system, becoming the definitive source for centrally and globally controlling, managing and presenting information. Control and automate the lights, drapes, screens, thermostats and AV equipment – all from an intuitive easy-to-use touch screen, remote or custom keypad. Crestron DigitalMedia® is the only field-proven end-to-end solution, engineered to manage and distribute digital AV, including streamed content and 4K. Let Crestron take control of the technology so you can focus on the task at hand.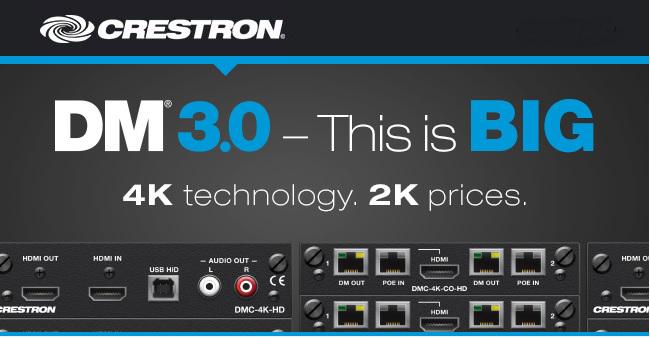 3-Series® 4K DigitalMedia™ Presentation System 150
Provides a 4K multi-format presentation switcher with fully automatic operation and DigitalMedia™ connectivity. Works seamlessly out of the box with up to four Crestron Connect It™ tabletop interfaces.
Download brochures:
Corporate Brochure
DM Brochure